Lion Maria Lilley,  Bookstall Manager
VENUE:  MORAIRA MARKET ( close by the entrance to the fun fair)
DATES:  1st  and 3rd Fridays of every month
HOURS:  09.00 – 13.30
We sell good quality English paperback books, all for just 1 euro each.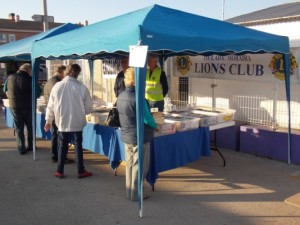 HELP……HELP……HELP……..HELP………HELP !
WE CONSTANTLY NEED GOOD QUALITY
ENGLISH PAPERBACK BOOKS.  
CAN YOU HELP US AND DONATE ANY SURPLUS TO YOUR REQUIREMENTS?
If so, please bring them to our bookstall, or email our current Bookstall Manager, Lion Maria Lilley, or phone her on  966 491 917.
The bookstall started very modestly in February 2007 and it quickly grew to selling some 5000+ books a year. Despite the advent of Kindle and other charitable causes now selling similar items, to date the Bookstall has contributed some €53,000 to Teulada-Moraira Lions Club local good causes.
Please keep those unwanted books coming and, as always, please buy some more.
Thank you.