The Welfare Committee of the Teulada Moraira Lions Club meets every month to consider requests for assistance from those in need. These can vary from one off individual requirements to assisting other organisations or responding to worldwide appeals from Lions International e.g.  the Indian Ocean tsunami, earthquakes in the Philippines, Japan, Nepal etc., Measles campaign and SightFirst programmes. Since formation in 1994, the Club has contributed to many local causes. Here are a few examples:-
Teulada Moraira Social Services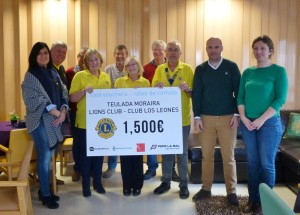 Providing batches of €50 food vouchers to Social Services in order that they may distribute to individuals or families suffering hardship. Over recent years the Club has donated some €10,000 per annum to this cause.
Benitachell Social Services – Identical programme to the one above at Teulada.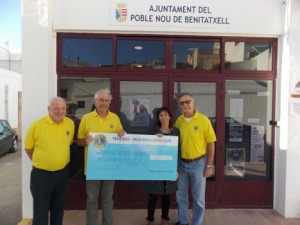 EMAUS, El Verger –  

Providing computers, TV's, clothing, bedding, toiletries, food, summer holiday camps, swimming/football training, meals, day trips etc. The Lions also decorated and part furnished this children's home

Purchasing  €23,000 +worth of food since 2011, for Caritas' in Teulada, Benitachell and Moraira.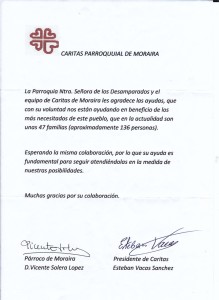 Delivering food donated by the public in the Lions collection boxes at two Pepe La Sal supermarkets.
In partnership with Pepe La Sal, the Club has donated freezers to Caritas so food which has reached its 'best before' date can be stored/delivered to the needy. Photo shows typical amount of this type of food, delivered every two weeks to Caritas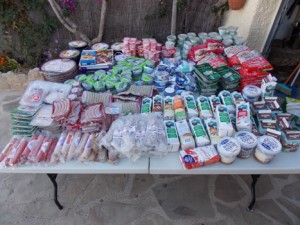 MABS –

 Purchase of electric hoists, specialist beds plus numerous other items of equipment. Facilitated the creation of their new therapy room at the IMED Centre, Teulada.
Alzheimer's Centre, Teulada -Purchase of electronic ramp for their new vehicle.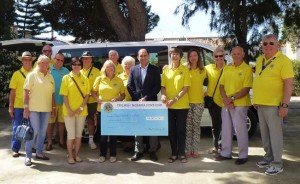 Also acquired for the Centre a storage unit, catering equipment and new refrigerator. Lions also decorated the Centre.
New Ambulance equipment  – Teulada
Proteccion Civil Ambulance – Purchased all the medical equipment for their vehicle, see below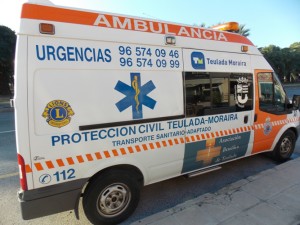 Teulada, Font Santa and Moraira – The Lions helped to purchase childrens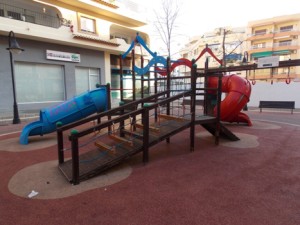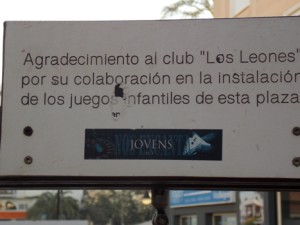 playground equipment in all these locations, in conjunction with the local Ayuntamiento.
Benitachell Bomberos Voluntarios – New fire fighting equipment.
Benitachell School – Funded summer schools for a number of years. Provided books where required. Purchased playground equipment. Sponsor annual handwriting competition.
Benitachell Youth Club – Purchased several items of games equipment.
Benitachell Health Centre – Donated defibrillator.
Teulada School – Donated audio visual training aids. Provided school meals for impoverished children. Supplied playground equipment. Purchased P.A. system for road traffic training scheme at local schools. Funded a number of summer school programmes.
Teulada Youth Club – Supplied new TV and DVD player.
Teulada Football Club – Purchased new washing machine.
Teulada Health Centre – Purchased electric examination table.
Moraira School – Purchase of playground equipment and exercise mats. Supplied new computers.  Sponsor annual handwriting competition. Provided school meals for children of impoverished families.
Benigembla School – Educational materials and computers. Sponsor annual handwriting competition
HELP charity shop, Moraira – The Lions volunteered to decorate the shop ahead of its official opening.
Salvation Army – The Lions donate all the collection proceeds  from their annual "What a Cracker" concert, to the Salvation Army, as a contribution towards their food kitchen in Denia.
Costa Blanca Samaritans – Sponsored training facilities in Alicante for prospective new Counsellors.
European Kids Association (EKA) – Sponsored individuals to attend vocational training courses in the UK.
Preventorio Infantil orphanage, Gandia – Provided bedding, toiletries and contributed to repairs for their shower block and heating system.
Leader Dogs for the Blind – As part of this Lions International initiative, the Club purchases new guide dog harnesses for the visually impaired within the Valencian Community.
Working closely with the various local Social Services departments, we also respond to numerous requests for help, whether it be for specialist eye care, medical equipment, clothing or food etc. Irrespective of geography, the Lions Club of Teulada Moraira seeks to offer help and assistance, wherever it possibly can and works tirelessly to abide by its Lions motto of:-
 "WE SERVE"